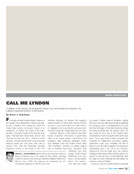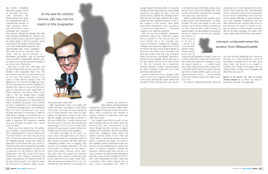 ---
Books (nonfiction)
Call Me Lyndon

In Master of the Senate, LBJ biographer Robert Caro has himself succumbed to his subject's legendary powers of persuasion.
Excerpt: This third volume of The Years of Lyndon Johnson carries the story from Johnson's election to the Senate in 1948 until the passage of the Civil Rights Act of 1957, the first civil rights law enacted since Reconstruction and the foundation of Johnson's later efforts to secure the basic privileges of citizenship and equal opportunity for African-Americans. Twenty years have elapsed since the publication of Volume 1; Caro has dedicated more of his life to writing about the 17 years of Johnson's life from Pearl Harbor to 1957 than LBJ spent living them. All that time with Johnson has mellowed his scribbling assailant. Drawn to his subject by opposition to the Vietnam War and a desire to expose the political and cultural evils that landed America in that bloody quagmire, Caro has come to appreciate not only Johnson's skill, but his achievements—his ends as well as his means. During the 1950s Johnson transformed the Senate, creating power for himself and also for his party and his program. "He made the Senate not only work," his inquisitor finally concedes, "but work toward a noble end.". . . .

About the writer: Bruce J. Schulman teaches history and American studies at Boston University and is the author of three books, including Lyndon B. Johnson and American Liberalism (Bedford Books of St. Martin's Press, 1995). His argument for revamping the U.S. Constitution appeared in Proof's first issue.


---
(ADVERTISEMENTS)