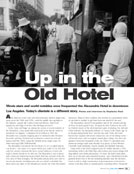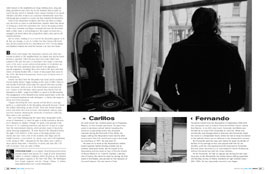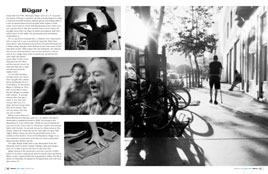 ---
A photographer explores downtown L.A.
Up in the Old Hotel

Movie stars and world notables once frequented the Alexandria Hotel in downtown Los Angeles. Today's clientele is a different story.
Excerpt: After America's inner cities and central business districts began emptying out in the 1960s and 1970s—with the middle class packing for the suburbs—people like Carlitos from rural Mexico, Anne from Appalachia and Bügar from Rust Belt Michigan moved in. Carlitos, Anne and Bügar are among the current or recent residents of the Alexandria, a once grand 500-room hotel in the historic center of downtown Los Angeles. The Alexandria is located in the very heart of L.A.'s so-called historic core district—two dozen or so square blocks just south of City Hall that early last century contained the most coveted addresses in town and today is known mostly for its skid row. Though I've spent a fair amount of my five years in L.A. exploring downtown and skid row (in part to escape from the entertainment industry, which provides many of my professional shooting assignments), I'd never heard of the Alexandria before the night I first visited it, in the course of shooting another story nearby. But once I met a few of the residents, like Bügar and his buddy Fernando, I was hooked. For about a year and a half beginning in the spring of 2001, I dropped by the Alex about once a week to shoot and do interviews. I heard lots of stories and took 100–150 rolls of pictures. Here are some of them. . . .

About the photographer: Stephanie Diani is a Los Angeles–based photojournalist whose personal projects have focused on a range of social documentary subjects in southern California, where she grew up. Her freelance work appears regularly in The New York Times, The Washington Post, People magazine and the Chicago Tribune. A website, www.stephaniediani.com, is under development.


---
(ADVERTISEMENTS)