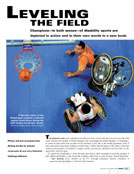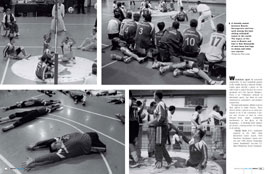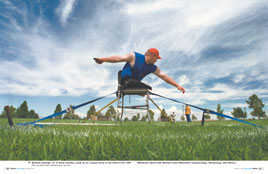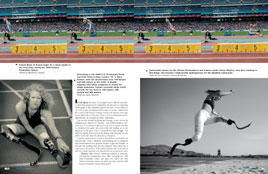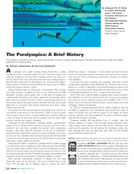 ---
cover story · Photo book excerpt
Leveling the Field

Champions—in both senses—of disability sports are depicted in action and in their own words in a new book.

Photos and text excerpted from Raising the Bar by Artemis Joukowsky III and Larry Rothstein (Umbrage Editions)


Excerpt: The airwaves carry sport competition virtually every hour of every day. But every two years, the world stops to witness the Summer or Winter Olympics and, increasingly, the Parallel Olympics, or Paralympics. It cannot be sport alone that accounts for the attention of one half of the world's population; most of the these same sports draw sparse audiences at other times. I believe that the power of the Games is that they showcase great qualities of humanity. Courage, sacrifice, perseverance, dedication and even faith are displayed time and time again. . . .

About the authors: Para-athlete Artemis Joukowsky III and writer Larry Rothstein are the co-authors of Raising the Bar: New Horizons in Disability Sport (Umbrage Editions, 2002), a compendium of sports photos and personal essays from which this photo story is excerpted. Joukowsky, who is currently training for the national championships in table tennis, is a Massachusetts-based venture capitalist. Rothstein, who also lives in Massachusetts, has served as an editor of the Harvard Business Review and is co-author of such books as Minding the Body, Mending the Mind and Your Are What You Say.


---
(ADVERTISEMENTS)