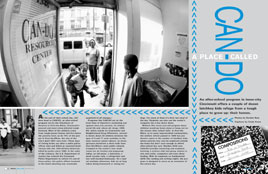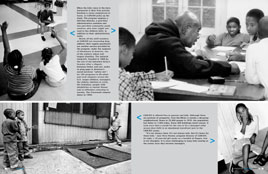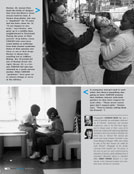 ---
Report from the inner city
A Place Called CAN-DO

An after-school program in inner-city Cincinnati offers a couple of dozen latchkey kids refuge from a tough place to grow up: their homes.
Excerpt: At the end of their school day, children head to CAN-DO, an after-school program run by the Volunteers of America in Over-the-Rhine, Cincinnati's poorest and most crime-infested neighborhood. Most of the children come from single-parent homes and live below the poverty level, as do 70% of the people in Over-the-Rhine, the site of the city's April 2001 riots. . . . ¶Programs like CAN-DO are on the front lines of America's continuing war against inner-city poverty, its related social ills and, above all, drugs. Without this seven-year-old program these children would go home alone or hang out on the streets after school. In Over-the-Rhine, as in many impoverished communities, the welfare reform passed in 1996 has produced a spurt in the number of latchkey kids, whose parents many now be employed outside the home but don't earn enough to afford after-school day care. Besides child care, CAN-DO provides mentoring and academic tutoring, a science club and group classes in arts and crafts, computers and even cheerleading. With its emphasis on fundamental skills like reading and writing, the program is designed to serve as an extension of the school day. . . .

About the photographer: Gordon Baer, a native of Louisville,has undertaken a wide variety of editorial, commercial and personal assignment, many in the Ohio River region, over his 40-year career. In 1965 a series of his photos was credited with influencing legislation intended to limit strip mining in Kentucky. His photo essay on Vietnam War veterans was turned into a book, Vietnam: The Battle Comes Home (Morgan & Morgan, 1984), and a photo he took of Pete Rose became the model for Andy Warhol's lithograph of the former Cincinnati Reds baseball star. The photos in this story are part of a series commissioned by Volunteers of America, which exhibited them in Cincinnati's Mercantile Library in December 2002.
About the writer: Cindy Kranz is a news reporter at the Cincinnati Enquirer and a freelance writer. She lives in Cincinnati.


---
(ADVERTISEMENTS)