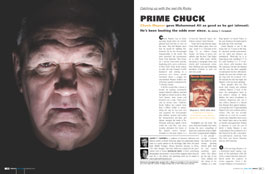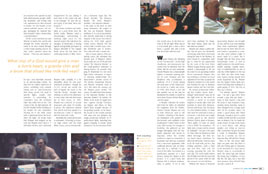 ---
sports issue special · Catching up with the real-life Rocky
Prime Chuck

Chuck Wepner gave Muhammad Ali as good as he got (almost). He's been beating the odds ever since.
Excerpt: Chuck Wepner was at home watching Kojak when his mother phoned and told him to turn on the news. Thus did Wepner learn that he would be fighting Muhammad Ali for the heavyweight championship of the world. The news launched the journeyman boxer from Bayonne, New Jersey, on a surreal seven-week journey, beginning with a press conference at New York's Plaza Hotel (where an antic Ali stole Howard Cosell's hairpiece) and ending in a cavernous Arco Arena, outside Cleveland, where a scrappy but overmatched Wepner battled one of history's greatest champions for 15 bloody rounds. If all this sounds like a movie, it should. An aspiring screenwriter named Sylvester Stallone watched the fight on closed circuit in a New York theater, went home and knocked out a script. . . .

About the writer: James T. Campbell, a professor of American civilization and Africana studies at Brown University, began his professional writing career as a sports reporter at the Anchorage Daily News. His latest book, Middle Passages: African American Journeys to Africa, 1787–2005 (Penguin, New York, 2006), was a finalist for this year's Pulitzer Prize in history.
About the photographer: Douglas Holt, a Proof contributing photographer, documented a Food & Wine magazine photo shoot for issue No. 3. His fashion and advertising work can be viewed at www.dougholtphotography.com.


---
(ADVERTISEMENTS)