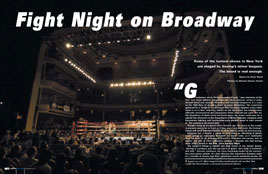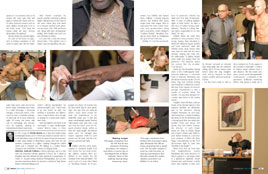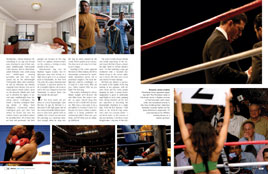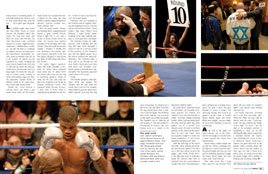 ---
sports issue special · Pro boxing's minor leagues
Fight Night on Broadway

Some of the hottest shows in New York are staged by boxing's minor leagues. The blood is real enough.
Excerpt: "Gentlemen, we're all here to make a buck," says chairman of the New York State Athletic Commission Ron Scott Stevens, trying to make himself heard over perhaps 50 boxers and assorted hangers-on in a room on the 19th floor of an office tower in lower Manhattan. The crowd has gathered for a weigh-in—an occasion that nowadays happens every other week or so in New York City, always on the day before any boxing event officially sanctioned by the commission (there were 29 last year). But for the abundance of thick necks and facial scars, the scene could pass for a typical late afternoon at the Department of Motor Vehicles, complete with fluorescent lighting and institutional-style seats to wait around in. The waiting is the worst part . . . .

About the writer: In 1971, at age 18, Peter Wood was a New York Golden Gloves middleweight finalist, and in 1976 he was invited to represent the U.S. in the Maccabean Games in Tel Aviv; he retired instead and now teaches high school English in Westchester County, New York. His two memoirs, Confessions of a Fighter—Battling Through the Golden Gloves and A Clenched Fist—The Making of a Golden Gloves Champion, were published in February by Ringside Books.
About the photographer: Michael Harlan Turkell's photos depicting a day in a New York City restaurant's kitchen appeared in Proof No. 3. Based in Brooklyn, New York, Michael has been selected for a compendium, 25 Under 25: Up-and-Coming American Photographers, due out next year from powerHouse Books. He maintains a web-based "plog" (photo blog) at harlanturk.blogspot.com.


---
(ADVERTISEMENTS)