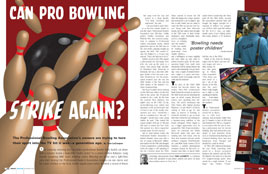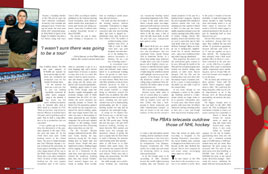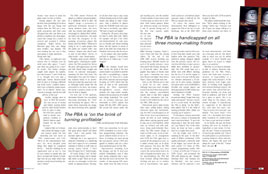 ---
sports issue special · The Professional Bowlers Association (PBA)
Can Pro Bowling Strike Again?

Once a network staple, the pro bowlers' tour plots a return to prime time.
Excerpt: Professional bowler Kelly Kulick's historic ascent to the PBA last season capped a phenomenal rise that began soon after she took up the sport as a Union, New Jersey, high schooler. At Moorehead State University in Kentucky she was a two-time collegiate Bowler of the Year and a two-time All-American. On the professional women's tour she was the 2001 Rookie of the Year and the 2003 winner of the women's U.S. Open championships. But those trophies mean nothing on the PBA tour, where, for the first time in her career, the 29-year-old seemed to hit a wall. At the time she sat down for an interview last December in West Babylon, Long Island—the eighth stop on the PBA's 22-city, six-month-long tour—Kulick had advanced to the second round (out of four) in one of the weekly tournaments just once. "Sometimes I feel at a complete loss," she said. "I thought I would have come along further by now." Like it's most famous rookie, the Professional Bowlers Association is behind schedule. . . .

About the writer: Cambridge, Massachusetts–based Tom LeCompte is a freelance writer who specializes in pop culture, aviation and sports. He wrote about military rations in Proof No. 3.


---
(ADVERTISEMENTS)