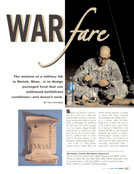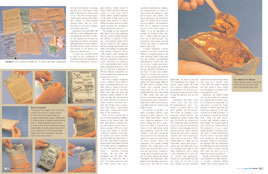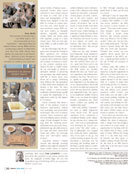 ---
food issue special · Military rations
Warfare

The mission of a military lab in Natick, Massachusetts, is to design packaged food that can withstand battlefront conditions—and doesn't suck.

Photos by Cassandra Cook, Michael Larson, Andrew Young, Ben Hojem


Excerpt: Introduced in the mid-1980s, today's military ration (known in service jargon as the Meal, Ready-to-Eat, or MRE) got its first widespread exposure during the Gulf War of 1990-91. The reception was not what the Department of Defense had hoped. "It wasn't the four-letter words so much as the combination of four-letter words that indicated the level of their displeasure," says program director Gerald Darsch of troops' initial response to the new rations. Within the armed services the MRE quickly acquired the designation "Meals Rejected by Everyone". ¶"We thought we were doing the right thing," Darsch says, explaining that the combat feeding program had achieved its objective of creating a self-contained combat ration that was sealed in a soft, compact, laminate package and provided one third of the military recommended daily dietary allowance (about 1,200 calories), while meeting the DoD's criteria for cost, production, shelf life (a minimum of three years at 80° Fahrenheit, six months at 120° F) and durability (able to withstand a parachute drop from 1,250 feet or a fall from a helicopter at 100 feet without a parachute). So, from an engineering standpoint, the program was a success. But from a culinary standpoint it was a different story. . . .

About the writer: Cambridge, Massachusetts–based Tom LeCompte is a freelance writer who specializes in pop culture, aviation and sports. His biography of Bobby Riggs, The Last Sure Thing (Black Squirrel Publishing, 2003), was excerpted in Proof's second issue.


---
(ADVERTISEMENTS)