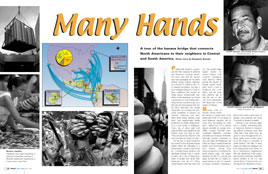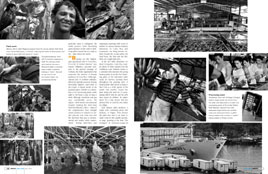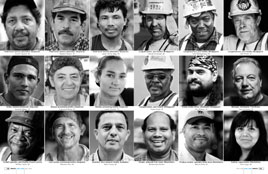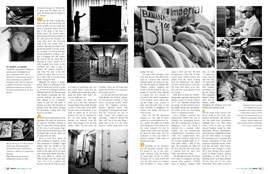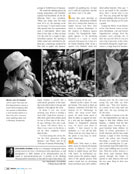 ---
food issue special · The people who bring you bananas
Many Hands

A tour of the banana bridge that connects North Americans to their neighbors in Central and South America.
Excerpt: "Americans just don't think about where bananas come from," says longshoreman Shelby Broderson, his forklift idling recently at a port facility in Bridgeport, Connecticut, one of about eight such cargo facilities used regularly by the banana trade. "They just know that [they're] in the store and [they're] cheap," he adds. For the past 13 years Broderson has worked at this dockside banana facility, where the offloading of a banana-laden container ship owned by Colombia-based producer and distributor Turbana Corp. is a weekly event. He is one of many thousands of people who derive their livelihoods from the $1.5 billion annual banana trade that unites the U.S., the world's single largest market for banana imports, with countries throughout Latin America, which provide 80 percent of banana exports worldwide. Here's a look at Broderson and a few others and the tasks they perform, day in and day out, so that your local supermarket will always have a fresh supply of bananas. . . .

About the photographer-writer: Benjamin Rusnak worked as a newspaper photographer before joining Food for the Poor, a Florida-based relief organization, as staff photographer in 2000. Samples of his photojournalism may be viewed at documentaryvision.com. A member of the Wedding Photojournalists Association, he lives with his wife in Boca Raton, Florida.


---
(ADVERTISEMENTS)