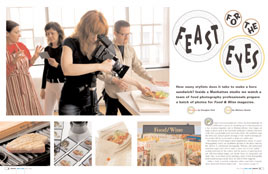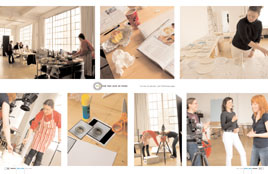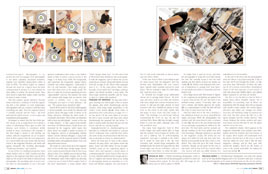 ---
food issue special · The glossy world of food styling
Feast for the Eyes

How many stylists does it take to make a hero sandwich? Inside a Manhattan studio we watch a team of food photography professionals prepare a batch of photos for Food & Wine magazine.
Excerpt: Pictures of food surround you. From a ten-foot hamburger on a billboard to a poster of a steaming cup of coffee plastered on a bus, in glossy magazines and on blinking websites, food images are today so much a part of the man-made landscape in America that most of the time, you probably don't even notice them. Still, marketers hope that when your stomach growls an image of their mouth-wateringly perfect product will be in your mind or, better yet, within view. ¶The ubiquity of food imagery hasn't happened by chance, of course. Photographing food is an established specialty in the photo industry, like fashion or architectural photography. Websites and professional workshops target chefs who've made a career out of food "styling"—cooking exclusively for the camera. And the process of capturing fresh and delicious-looking images can involve hours of preparation and studio time, as we found out by watching a team of food photography professionals during a recent shoot for Food & Wine magazine. . . .

About the photographer: Douglas Holt, a Proof contributing photographer, works in fashion and commercial still-life photography to finance his travel and photojournalism projects. He shot more than 400 images for this photo story, his third to appear in Proof.
About the writer: Melissa Sands is a Brooklyn-based photographer and writer who devotes much of her blog (forkthis.blogspot.com) to her encounters with food. A selection of her food photography can be viewed at melissasands.com. She, too, has red hair.


---
(ADVERTISEMENTS)