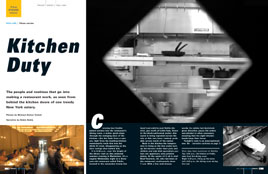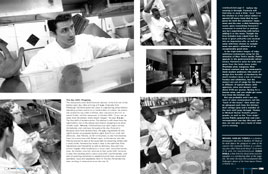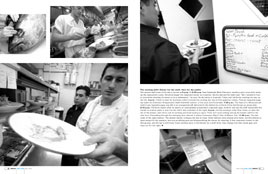 ---
food issue special · Behind the swinging doors
Kitchen Duty

The people and routines that go into making a restaurant work, as seen from behind the kitchen doors of one trendy New York eatery.
Excerpt: Carrying two freshly plated entrées into the restaurant's dining room, a waiter quick-steps through the swinging door of the kitchen. Like the flash from a camera, light from the bustling kitchen momentarily trails him into the dimly lit room, disappearing as the door swings shut behind him. It is 9:30 p.m., near the height of the dinner rush on this midweek summer evening in Manhattan. It's a regular Wednesday night at a three-year-old restaurant called Public, located in the somewhat trendy but hasn't-yet-sold-its-soul Nolita district, just north of Little Italy. Down to the black-uniformed waiter, this scene is being repeated across the city at this very hour—indeed, probably across much of the nation. . . . ¶Public draws a mix of serious foodies and celebrities, but the menu's not out of range for the merely affluent. A typical dinner, with appetizer, wine and dessert, runs about $100 per person. Spring for a fancier wine, and you might be favored with a little "love"—a special off-menu treat—from the kitchen. But you probably won't see any more of what restaurateurs call the "back of the house" than what can be glimpsed each time the kitchen door swings open and a member of the wait staff pops through. Thanks to Michael Harlan Turkell's photographs, as well as the "free range" access Public granted him and your correspondent one day this past summer, we can give you a taste of what you're missing. . . .

About the photographer: Michael Harlan Turkell is a freelance photographer who lives in Brooklyn, New York. Much of his work depicts the goings-on in some of the country's best restaurant kitchens in a continuing series called "Back of the House". To see more of his work, visit www.harlanturk.com.
About the writer: Robin Noble, a New York City–based writer and photographer, is a contributing editor of this magazine. She wrote the essay that accompanied Ofer Wolberger's photos of the Times Square Theater in Proof No. 1.


---
(ADVERTISEMENTS)