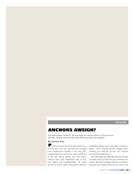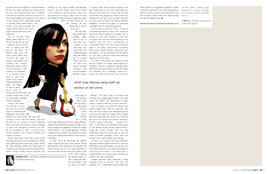 ---
Pop music
Anchors Aweigh?

Tempest-tossed rocker PJ Harvey sings of calmer waters in Stories from the City, Stories from the Sea. Has she found her true release?

Excerpt: PJ Harvey's music has never gone down easy, even for fans. Ever since her band first emerged from southwestern England in the early '90s, founder Polly Jean Harvey has made audible art of her own wrath, spoiled love and misery. Harvey's lyrics told disquieting tales of lust, love, disgust and disappointment. The sound was just as violent: gritty, thick guitars and bass, foreboding drums and a voice that conveyed a gothic charm through shrieks, volatile pitch-shifting and bellyache groans—all executed with dumbfounding grace.
   Her wild anger automatically led many listeners to herald Harvey as the new face of women's liberation. But after listening to the lyrics, we discovered just how chained down she was. By her own account Harvey was caught in a world dominated by men. Her anger stemmed from being rejected by a man, after trying to devour him so completely that her own identity got lost in the process. At once confrontational and protective of her dream of love, Harvey in her songwriting seemed to construct walls around herself—and around a lover who'd probably have strayed without them. She wasn't ready to break down those walls. Until now.
   On PJ Harvey's latest album, Stories from the City, Stories from the Sea, we hear a different woman. . . .

About the writer: Jeanne Fury , a columnist for NYROCK.com, was born and bred in the suburbs of New Jersey.


---
(ADVERTISEMENTS)