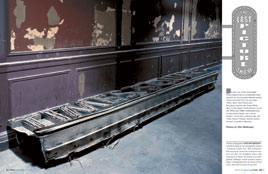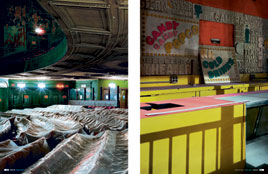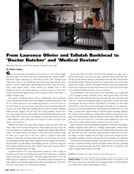 ---
Hidden New York
The Last Picture Show

In the core of the remodeled "New 42nd Street" district lies an unintended time capsule: Built in the 1920s and now padlocked for more than a decade, the unrenovated Times Square Theater silently awaits its next, uncertain makeover.

Excerpt: Gone are the prostitutes lounging in the windows of 42nd Street's Nugget peep show palace, the Kittykat marquee boasting shows like "Rump Humpers" and movie houses featuring such triple bills as White Trash, Titillation and Virgin Heat. Most of the blockbuster real estate deals that underlie Times Square's current transformation have already been made. Today the unrenovated Times Square Theater, whose interiors are depicted here in Ofer Wolberger's photos, sits sullenly behind its neoclassic facade on 42nd Street between Seventh and Eighth avenues, like a forgotten child in the midst of a bubbly Christmas party. . . .

About the photographer: Freelancer Ofer Wolberger is currently working on two photographic projects, "Commercial Insides" and "Mall Architecture", both focusing on commercial architectural structures and their uses throughout history. After majoring in art history and cinema as an undergraduate, Wolberger recently received a master's degree in photography from the School of Visual Arts in New York City, where he now lives.
About the writer: Robin Noble is a New York City–based freelance writer. She received a New York State Council of the Arts grant for her ongoing project, with photographer Lynn Saville, Times Square: Reinventing the Fantasy.


---
(ADVERTISEMENTS)