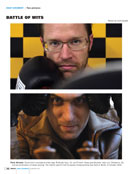 ---
sports issue special · The back-page photo story
Battle of Wits

Twin threats (chess-boxing promoters Iepe Rubingh and Jean-Luc Chabanon).
Excerpt: Dutch-born conceptual artist Iepe Rubingh and French chess grandmaster Jean-Luc Chabanon are key promoters of chess-boxing. The hybrid sport's first European championship was held in Berlin in October 2005. . . .

About the photographer: Cyril Cavalié is a French photojournalist based in Paris. A member of the international photographers' collective Luna, he specializes in social documentary and politics. His photographic report on chess-boxing, a hybrid sport inspired by Enki Bilal's 1992 futuristic graphic novel, Froid-Equateur [Cold Equator], was featured in a photo exhibition in Nantes last year and was remounted on the walls of a Paris café in April.


---
(ADVERTISEMENTS)