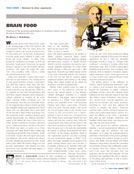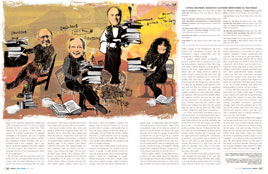 ---
food issue special · Books (nonfiction)
Brain Food

Evidence of the growing sophistication in American cuisine can be found at a bookstore near you.
Excerpt: Why write about food? asked M.F.K. Fisher in the opening pages of her 1943 memoir, The Gastronomical Me. Why not "write about the struggle for power and security, and about love, the way others do?" At the time, writing about food was pretty much confined to lowly cookbooks and recipe columns. So when Fisher penned her meditations on hunger, on both the immediate hankering for bread and the equally insistent cravings for love and warmth and transcendence, she could not escape the suspicion—the accusation, really—that as a writer she had dishonored her craft. ¶Today, more than half a century later, Fisher's heirs face no such resistance. The cooking section of every good bookshop contains a food literature shelf that features many bona fide bestsellers: In Julie and Julia onetime blogger Julie Powell cooked her way through Julia Child's classic cookbook in a tiny New York apartment; New York Times reporter Amanda Hesser romanced a culinary philistine in Cooking for Mr. Latte; Vogue columnist Jeffrey Steingarten (yes, the self-proclaimed "man who ate everything" writes for the magazine whose famous models eat nothing) smuggled dangerously unpasteurized French cheese onto our undefended shores, then dined off the tale with It Must Have Been Something I Ate. The popularity of this convention-busting genre extends beyond print, too. Anthony Bourdain's exposé of life behind the stove at New York's Les Halles, Kitchen Confidential, became a television series. Hollywood producer Joel Silver (Die Hard, The Matrix) has taken an option on ex-Times restaurant critic Ruth Reichl's three-volume saga of growing up during the food revolution, Tender at the Bone, Comfort Me with Apples and Garlic and Sapphires. And on the Internet, the culinary off-road adventuring pioneered by New Yorker writer Calvin Trillin (The Tummy Trilogy et al.) has become commonplace, with websites for every down-home local specialty attracting legions of electronic chowhounds. ¶The most recent additions to this bubbling genre are two current bestsellers: Heat, by Bill Buford, and The Omnivore's Dilemma, by Michael Pollan. . . .

About the writer: Bruce J. Schulman reviewed the latest installment of Robert Caro's multivolume Lyndon Johnson biography in Proof No. 2. He teaches history and American studies at Boston University.


---
(ADVERTISEMENTS)