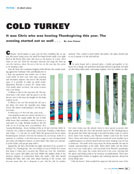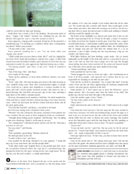 ---
A short story
Cold Turkey

It was Chris who was hosting Thanksgiving this year. The evening started out so well . . .

Illustrated with a photo by Chris Werner/Partners Design


Excerpt: Christine Farrell awakes to gray and tan lines wobbling like an eye test, like bacon frying. Jesus, the smell! Her brain throbs inside a too-tight skull as the blurry lines come into focus as the louvers of a door. Chris slides an arm out, shifts the shoulders sideways and drags the head up onto the mattress, where the rest of her lies on this new day. She seems to be wearing a skirt. ¶Now she hears her roommate banging in the kitchen, the sounds crashing against her forehead. Chris and Rhonda live in a Back Bay apartment that neither one of them could afford on their own, with deep carpeting and frictionless drawers, but even in this hushed space it is possible to make an awful racket. Apparently, Rhonda is pissed off—about what, Chris would rather not know. She needs to know only a few things: 1) Where is she? In her own bed, OK. The louvered door is her closet. And her purse is on the dresser, next to the bear she bought for her baby nephew, Jacob. 2) Where is her car? She mislaid the old one a few times, but this is her new beautiful indigo Passat. She cannot recall parking it. Sets the question aside. 3) What day is it? This will take some work. . . .

About the writer: Jane Palmer writes fiction in a small pink room on the top floor of a converted safety goggles factory in Reading, Pennsylvania. Her short stories have been published in Descant and read aloud in Philadelphia and New York City.


---
(ADVERTISEMENTS)