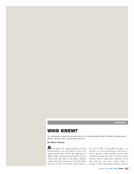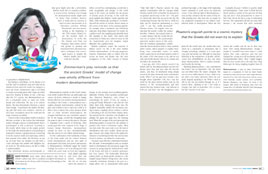 ---
Broadway
Who Knew?

For audiences rocked by current events, the ancient fables retold in Mary Zimmerman's Metamorphoses are surprisingly relevant.
Excerpt: At first glance the stage adaptation of Ovid's Metamorphoses now at Broadway's Circle in the Square would seem to have the makings of a light evening. Greek gods and mortals are up to some pretty silly antics in the play, a modern retelling (by Mary Zimmerman) of Ovid's fables that had its New York debut off-Broadway in the fall of 2001. Structurally, the play is as episodic as a circus performance, with about a dozen separate, mostly familiar classical tales presented in under two hours. There's no intermission, and no single main character. As the title indicates, the play's central theme is change, a theme that hardly promises surprises or guarantees enlightenment. ¶But timing is everything—in the theater as in real life. And for audiences that can't help but be mindful of how much the world can change in a mere two hours, Zimmerman's play is not likely to invoke an evening spent with Cirque du Soleil, much less Barnum & Bailey. In fact, a full year after the 9/11 attacks, this Metamorphoses carries a remarkable power to make one think, deeply and reflectively. The key is its ancient theme: The play demonstrates that how a culture views change—in particular, the sudden, life-altering jolts that beset even moderns—informs its most basic assumptions about the world and the range of human possibility. . . .

About the writer: Mary Poovey wrote about David Auburn's play Proof in Proof's debut issue. She is a professor of English and director of the Institute for the History of the Production of Knowledge at New York University.


---
(ADVERTISEMENTS)