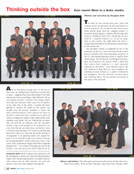 ---
Studio session
Thinking Outside the Box

East meets West in a Soho studio.
Excerpt: The client for this one-day shoot was a New York company whose top executives are all South Koreans or Korean–Americans. The art director who hired me was pretty specific about what the company wanted: 13 executives arrayed against a seamless white background, seated or standing in three rows. . . ¶After we had gotten enough shots of the men in three rows, we still had about a half hour of studio time to spare. I suggested that since they'd paid for the time anyway, why not try something a little different?. . . .

About the photographer: Douglas Holt works in fashion and commercial still-life photography to finance his travel and photojournalism projects, most recently shooting stories in southern Africa on tribal cultures and the AIDS pandemic. His work also appears in this issue's Snap Judgment.


---
(ADVERTISEMENTS)