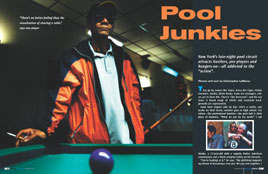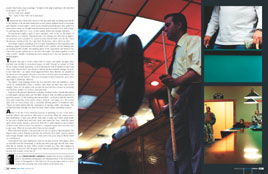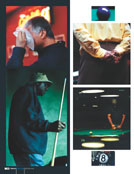 ---
Hidden New York
Pool Junkies

New York's late-night pool circuit attracts hustlers, pro players and hangers-on—all addicted to the "action".
Excerpt: They go by names like Viper, Harry the Cigar, Richie Sneakers, Alaska, Black Rocky. Some have regular jobs by day: One's a roofer, one works on Wall Street, another goes to high school. For others—the professional hustlers—the pool hall is their place of business. "What do you do for work?" I ask Alaska, a 27-year-old with a vaguely Native American countenance and a black scorpion tattoo on his forearm. ""You're looking at it," he says. "My girlfriend supports my dream of becoming a true pro. We pay rent together. I practice four hours a day on average. I'm right on the edge of getting to the next level in my game. I can feel it." Are you really from Alaska? "Yes. I came to New York City to play pool.". . . .

About the photographer: Last June Christopher LaMarca completed the one-year certificate program in documentary photography and photojournalism at the International Center of Photography in New York City. He recently began work on a documentary film portraying some of the subjects of this photo story.


---
(ADVERTISEMENTS)