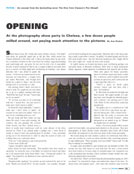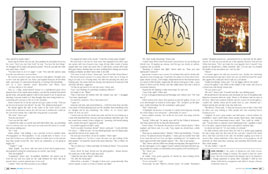 ---
Novel excerpt
Opening

At the photography show party in Chelsea, a few dozen people milled around, not paying much attention to the pictures.
Excerpt: Simon lived a busy life. Drinks after work, dinners, movies. If he didn't have plans, he generally stayed late at the law firm, which meant free Chinese delivered to the office and a Dial-a-Cab home when he was tired, not to mention overtime for the extra hours he worked. Legal proofreading paid surprisingly well, and given his low rent he had a lot of expendable income. It wasn't unusual for him to see a couple of plays in one week, then go to a concert on Friday night and out dancing on Saturday. I was always welcome, but I was afraid to spend the money—I'd shown up unannounced on his doorstep not long before, a refugee from our native Wisconsin, and though he'd found me a place to sleep, I was far from having a job, or an income, or a life. ¶One evening, when I hadn't seen him in about a week, he sought me out and asked me to go to a gallery opening with him. "There'll be free food," he said. "I won't take no for an answer.". . . .

About the writer: Ann Packer is the author of Mendocino and Other Stories, available from Vintage in January. This excerpt is from her recent novel, The Dive from Clausen's Pier (Knopf), due to be released as a Vintage paperback in spring 2003. Copyright © 2002 by Ann Packer. Published by arrangement with Alfred A. Knopf, a division of Random House Inc.


---
(ADVERTISEMENTS)