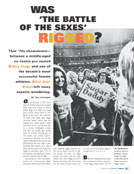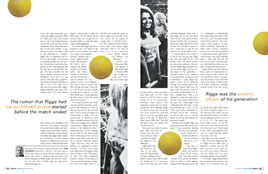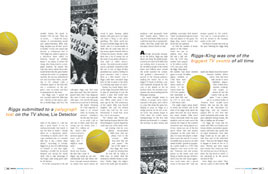 ---
Investigation
Was 'The Battle of the Sexes' Rigged?

That '70s show(down)—between a middle-aged ex-tennis pro named Bobby Riggs and one of the decade's most successful female athletes, Billie Jean King—left many experts wondering.
Excerpt: The 1973 made-for-TV "Battle of the Sexes" between Bobbie Riggs and Billie Jean King was the first tennis match to earn an official betting line from Las Vegas casinos. At match time the oddsmakers had made Riggs an 8-to-5 favorite. But King, then 29 and well into her Hall of Fame career, was an upset victor, thrashing Riggs in straight sets, 6-4, 6-3, 6-3. . . . ¶The rumor that Riggs had bet on himself to lose started before the match even ended. . . .

About the writer: A freelance writer based in western Massachusetts, Tom LeCompte explained in Proof's first issue why he thinks John McEnroe should become commissioner of tennis. This article is adapted from LeCompte's first book, a biography of Bobby Riggs, The Last Sure Thing—The Life and Times of Bobby Riggs (for information: www.bobbyriggs.com).


---
(ADVERTISEMENTS)