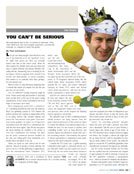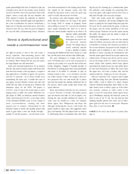 ---
Pro tennis
You Can't Be Serious

But somebody has to be—or tennis is doomed. Only John McEnroe, the incorrigible superbrat, commands enough, er, respect to save the game.

Excerpt: Let's get one thing straight: John McEnroe is not nice. If you think that at 43, the "superbrat" of tennis might have grown up—then you probably haven't seen him on the senior circuit, where he often reprises his childish antics and even finds new ways to inspire disbelief and dismay. Whether ridiculing officials, threatening fans or insulting his fellow players, McEnroe regularly shows himself to be boorish and mean-spirited, an unruly competitor who answers to no authority other than, perhaps, his own twisted soul.
   Which is why it is only with deep misgivings that I contend that maybe, just maybe, he's also the one guy who can save tennis. . . .

About the writer: A freelance writer and a contributor to Tennis magazine, Tom LeCompte lives in western Massachusetts. He is currently working on a biography of Bobby Riggs.


---
(ADVERTISEMENTS)