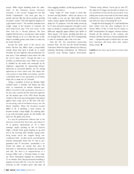 ---
TV sports
The I-Didn't-Do-It Boy

Don't blame Dennis Miller for spoiling Monday Night Football. The people who brought you the Sydney Olympics, the WWF and (briefly) the XFL deserve credit, too.

Excerpt: Hiring a comedian to announce sports struck many Americans as daring, but make no mistake: ABC's move was as carefully measured as Ted Koppel's bangs. Like everyone else in TV-land, the producers of Monday Night Football train their eyes on the numbers—their own and those of their competitors. MNF's Nielsen ratings, though still firmly in the top ten among prime-time shows, had softened unmistakably in recent seasons; 1999 was its worst ever. Even more ominously, week after week this TV dowager found itself outpointed in the 12-to-24 male demographic that advertisers crave. Here the upstart winner was no secret, either: the prepackaged, prefabricated "sport" of professional wrestling.
   To attract the coveted young stud puppets, MNF's producers realized a tummy tuck and a face-lift were necessary, and they ordered a makeover for the show. . . . .

About the writer: Jay Martel writes plays when he isn't writing about television (in Rolling Stone, GQ and Mother Jones) or for television (including TV Nation, Strangers with Candy and The Wubbulous World of Dr. Seuss). He also has appeared as a correspondent on Bravo's The Awful Truth.


---
(ADVERTISEMENTS)