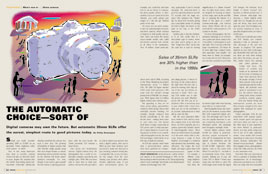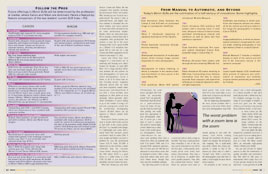 ---
A consumer's guide
The Automatic Choice—Sort Of

Digital cameras may own the future. But automatic 35mm SLRs offer the surest, simplest route to good pictures today.
Excerpt: Should you really consider spending $400 to $1,000 on an automatic 35mm single-lens reflex (SLR) camera—in 2002?
   Sure. In fact, many Americans have done so recently, sending 35mm SLR sales to their best levels in years, despite the certainty that the world's best-selling picture-taking format—35mm film—will become obsolete sometime this century. You read it here first: The growing affordability of digital cameras that offer film-like image quality along with such unique features as instant previewing and near-instant sharing via the Internet will doom today's standard—eventually. For now, though, if you want to give yourself the best chance of getting good pictures, with the least hassle, the 35mm automatic SLR remains a smart choice. . . .

About the writer: Philip Greenspun started photo.net, a photo enthusiasts' website, as his personal homepage in 1993. He has been teaching at what he describes as the "finest engineering school in East Cambridge" (also known as the Massachusetts Institute of Technology) since 1991.


---
(ADVERTISEMENTS)