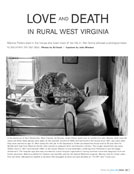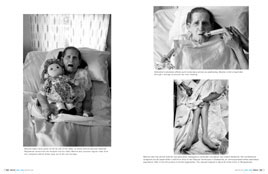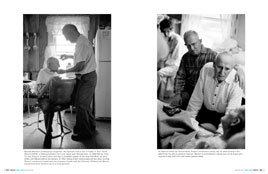 ---
Country life
Love and Death in Rural West Virginia

Maxine Peters died in the house she lived most of her life in. Her family allowed a photojournalist to document her last days.
Excerpt: In the bedroom of their Gladesville, West Virginia, farmhouse, Arden Peters leans over to comfort his wife, Maxine. Both were 90 years old when these photos were taken (in the summer and fall of 2000) and had lived in the house since 1931, two years after they were married at age 19. After losing his mill job in the Depression, Arden purchased the house and its 90-acre for $2,500 with help from Maxine's family (who owned an adjacent farm) and became a farmer. The couple raised their two sons, Walter (born in 1931) and Donald (1933) in the house. Maxine is now bedridden, suffering from Parkinson's and end-stage Alzheimer's. The hospital-type bed was provided by a local hospice organization; having received a terminal diagnosis from her family physician, Maxine qualifies for hospice care benefits paid by the federal Medicare program. Maxine calls for Arden when he's not there, although her speech is minimal. She struggles to force out such phrases as "I'm OK" and "I love you". . . .

About the photographer and the writer: Photographer Ed Kashi and writer Julie Winokur, a husband-and-wife team, began documenting the lives of America's aged in the mid-1990s and plan to produce a book and a traveling exhibition on the subject. Kashi has worked in over 50 countries producing photo essays on such diverse subjects as Northern Ireland's Protestants, Jewish settlers in the West Bank and the Kurdish peoples of Turkey, Iraq and Iran. His photos have appeared in major magazines worldwide, including eight stories in National Geographic in the past decade. Winokur's articles have appeared in Natural History, Audubon, Travel & Leisure and the Sunday magazines of The New York Times, the Seattle Times and the San Jose Mercury News, among others. She is co-editor, with Don Hazen, of We the Media: A Citizen's Guide to Fighting for Media Democracy (New Press, 1997).


---
(ADVERTISEMENTS)