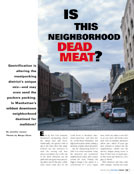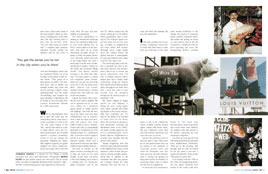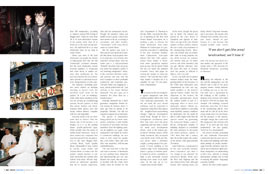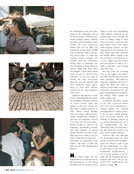 ---
New York City scene
Is this Neighborhood Dead Meat?

Gentrification is altering the meatpacking district's unique mix—and may even send the packers packing. Is Manhattan's wildest downtown neighborhood destined for malldom?

Excerpt: Even by New York standards, Manhattan's meatpacking district has always kept odd hours. Traditionally, the quietest time of day in this lower West Side neighborhood was late afternoon to dusk—the evening rush hour almost everywhere else in the city. In the harsh afternoon sun the padlocked and gated meat processing plants and off-the grid, cobblestone streets could pass for the South Bronx or Brooklyn's abandoned waterfront—and often did, for on-the-cheap filmmakers and high-fashion photo stylists seeking a backdrop of gritty urban desolation. ¶But the meatpacking district in 2002 is no urban wasteland. Today the industrial and commercial neighborhood pulses with activity around the clock. Perhaps the biggest change is the advent of a conventional (4–7 p.m.) happy hour, which has added a new shift to an area that's still liveliest after dark. Now on weekday afternoons yellow cabs—which 20 years ago were reluctant to venture into the neighborhood—rumble over the district's Belgian paving stones to drop off their fares at swank eateries like Pastis and Markt for a $12 glass of Merlot. ¶With afternoon cabs have come other changes. Soaring real estate prices have chased away many of the meat market's fabled sex businesses, including most of the fetish clubs that had clustered there at least since the pre-AIDS 1970s. . . .

About the writer: Jennifer Jensen is a reporter at The Villager, a weekly newspaper that covers lower Manhattan.
About the photographer: Margo Silver has shot fashion spreads and rock concert stills for various clients. Her photos of downtown Manhattan will be included in "Why...You? Me!", a forthcoming group art show organized by urbanetc.com.


---
(ADVERTISEMENTS)