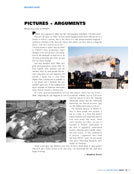 ---
Launch editorial
Pictures + Arguments

Why PROOF?


Proof was supposed to debut last fall. Unfortunately, September 11th intervened.
   This isn't the place to reflect on how world-changing events have affected me as a citizen or even as a person. But as the editor of a new photojournalism magazine I needed no reminder of the awesome impact news photos can have. And as a magazine editor—and not a neutral one in this—I'm duty-bound to report that my belief in Proof's basic proposition hasn't changed a bit: still pictures still matter, even in the aftermath of what has to be the most astonishing news video we may ever see (here's hoping).
   And why shouldn't they? Why can't great photojournalism coexist with 24-hour satellite news channels and the Internet? After all, more people take pictures today than ever, and magazines still provide a handy way to view them (lighter than a laptop and as portable as a cell phone, last I checked). But you wouldn't guess any of this judging from what's available on American newsstands today. Proof intends to fill that void.
   Of course, great photojournalism isn't just news photos. Henry Luce put it best, I think. Subjecting his Life magazine to one of its periodic rethinks, Luce in 1958 counseled his editors to favor the "humanly interesting" picture over the "technically interesting" one. After all, he wrote, "pigs are still mighty interesting to look at."
   The editorial mission of Proof is, first, to show people new pictures, a few at a time, in a form that doesn't require batteries and sometimes doesn't even need words. But words, which aren't obsolete yet either, are just as essential to Proof—particularly in the form of arguments: opinionated reviews, editorials and in-depth, subjective news reports. It's this combination of "pictures + arguments" that I think will help Proof stand out and maybe even prove interesting (humanly, technically or otherwise).
   I hope you'll agree. But whatever your view, I'd love to know about it; space permitting, we'll add a letters section to the next issue—on newsstands this fall. Until then, happy browsing.


—Stephen Davis


About the writer: Stephen Davis is Proof's founding editor.


---
(ADVERTISEMENTS)